✓ 1/4" CNC Plasma Cut 4130 Steel Plate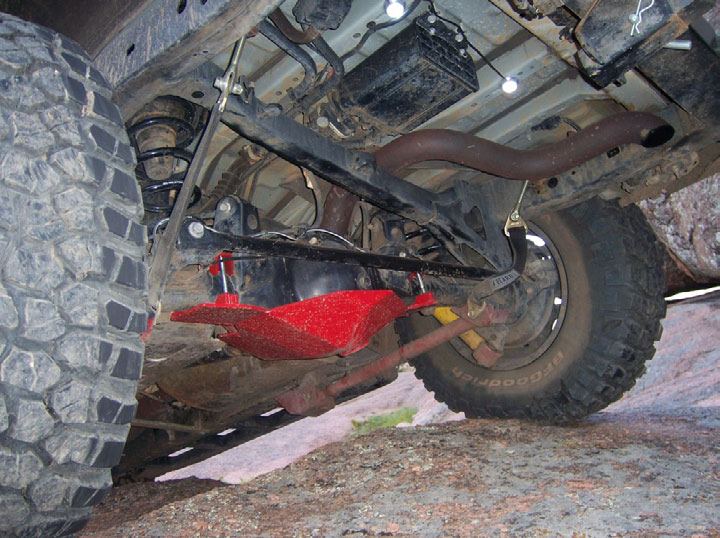 ✓ Hand Welded Joints both inside and out - All joints blended for smooth, hang-free strike surface
✓ Bead Blasted & Powder Coated Red (Additional colors upon request for additional fee)
✓ Built to tight tolerances for best fit
✓ CADD Designed and reviewed by Licensed Engineer
✓ New Grade 5 Hardware Included

From Digger (the manufacturer): This diff skid was designed and built with a few ideas in mind:
1. Clearance – Some other diff skids on the market sacrifice clearance for protection. This diff skid fits flush against the bottom of the rear diff. The only clearance lost is the thickness of the material.
2. Ease of use - Our diff skid is currently the only one on the market that allows diff fluid servicing without removing the skid. This is accomplished by guarding the factory drain plug standoff with a 1/2" long piece of 3" DOM tubing (1/2" wall). This provides the best protection without sacrificing accessibility.
3. Fail safe attachment system - Our diff skid is mounted under tension and designed to be an integral part of the skid structure. There is no slipping or sliding into the driveshaft or 3rd member yoke. The drain plug stand off does not only protect but also acts as part of the attachment system.
4. Strength - Our diff skid body is made from 1 solid piece of 1/4" HR plate. It is CNC plasma cut and bent to conform to the rear diff of the FJ cruiser. There are 4 seams that are welded inside and out to ensure maximum strength and durability. As mentioned above, it is put on and torqued under tension. This "pre-loads" the diff skid and allows it to also to act as a kind of axle truss to strengthen the interface between the diff housing and the axle housings.
For more information or to order, contact Digger at This email address is being protected from spambots. You need JavaScript enabled to view it.