Official: 2010 FJ Cruiser, featuring Army Green exterior
Details

By

TCT Magazine

TCT Magazine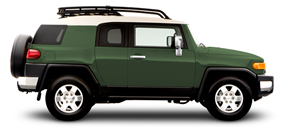 It's Official! Toyota announced in a press release yesterday that the 2010 FJ Cruiser will hit dealerships in August, and that most of the rumors floating around the net are in fact true. Army Green will be a new color option (although Toyota doesn't mention which colors are going away, if any) The only other details announced were the increase in HP, tighter turning radius, dual VVT-I engine, and a price increase of 1.4% - 1.5%.
Details for the 2010 Trail Teams Edition haven't been formally announced, but at the FJ Summit Frank Bonnet from TRD stated that 1500 all Tan TT Edition FJ's should be arriving at dealers this fall.
The Toyota press release can be found here. We expect to get a test drive of (hopefully) an Army Green '10 FJC soon, so stay tuned!
Update: Toyota has removed the press release referring to the 2010 FJ Cruiser, no one from Toyota has been available for comment. We still expect to see '10 FJ's on the lots very soon.
Update 2: Looks like the link changed, it's now HERE.
UPDATE 3: We've now been out wheeling with a 2010 Army Green FJ!
We'll have COMPLETE coverage of the new FJ in our January 2010 issue. Have you subscribed? (it's FREE!)


Free Subscription!
{jform=6}