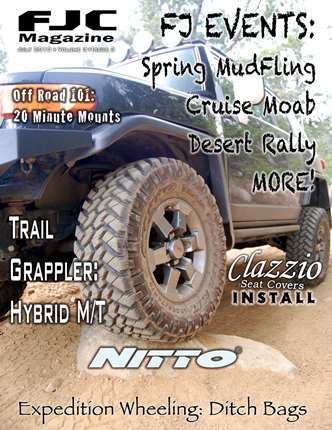 It's that time of year again! Summer is in full swing, the FJ Summit is JUST around the corner, and the July issue of FJC Magazine is out.
Everyone will be happy to know that we finally selected & installed our new M/T tires. Which ones did we pick? Find out on Page 4. We also added Dyna Beads to the new meats and have our initial impressions on this cool product. We really should call this issue the "Event Issue" because we've got more Toyota FJ Cruiser event coverage than ever! We have coverage of Cruise Moab, Spring MudFling, the FJ Bruisers Rally, and even an overseas event: The 2010 Abu Dhabi Desert Challenge!
Other cool stories include our install of Clazzio Seat Covers from TRD Sparks, Lances Expedition Wheeling article covering Ditch Bags, and a sweet 20 minute roof rack accessory mount mod. Be sure to check out Page 25 for something HOT, you'll be glad you did!
We're excited to be taking our baby boy to his first FJ Summit in a few weeks. He won't be hitting any trails just yet, but if you're around be sure to say hi to Brenden, Angie & I. If you can't make it to Ouray this year we certainly hope you have a great summer & enjoy your FJ Cruiser!
If you haven't heard yet, we've also launched our FJC Magazine STORE. You can get several FJ Cruiser posters (more are coming soon) as well as Colorado Pass Stickers (currently Ouray area only, but those will expand as well). Please stop by & check things out, all of our items are very well priced and of the highest quality.

With that we hope you enjoy this issue of FJC Magazine, and look forward to your feedback. You can send your thoughts to This email address is being protected from spambots. You need JavaScript enabled to view it. , or leave them in the comments section on any story. Until next time, Stay the Trail, Tread Lightly, and have fun!