Details

By

TCT Magazine

TCT Magazine
Welcome to 2009!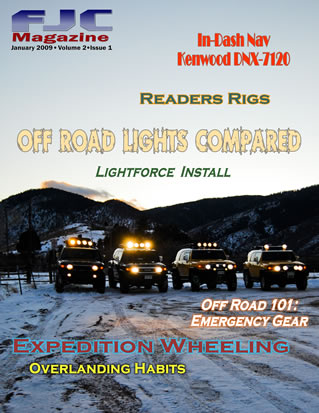 We hope that everyone had great Christmas & New Year holidays. We were hard at work putting the final touches on the first issue of '09. We have plenty of great content for you to help start 2009 off right! Some of the articles in this issue include:
Off Road Lights Compared! We tested four of the most popular brands of off road lights on the trail. Which one is right for you?
Kenwood 7120 Installation & initial review. We finally got our hands on a Kenwood in-dash nav unit. Checkout the install & review in this issue!
We welcome Paul Thompson from the Last Great Road Trip as our newest contributor, he's written a great article on his recent trip to Browns Camp with the NWFJCC.
Lance is back! This time he discusses how Overlanding Habits differ from normal camping trips. You don't want to miss it!
Follow along as we install a set of Lightforce Striker 170's on the WAAG XS Basket, it's not the easiest mod but WOW what a difference!
Our first in a two part Off Road 101 series covers Emergency Gear - a basic survival kit.
So much more, don't wait - download your copy now!
As always, we have two downloads available - absolutely free:
For reading on your computer, you'll want the standard edition of FJC Magazine - Download Here
For printing, the print-ready version with a white background - Download Here
NOTE: Internet Explorer users should right click and select "Save Target As"
The online Flash version of FJC Magazine is also now available!
Just a reminder that FJC Magazine supporters have full access to all the online articles (including MANY more photos), the online Flash Version, and less advertising on the web site. We also e-mail breaking FJ Cruiser news to all supporters. We ask for an annual donation of just $12 to become a supporter. More details are here.

Details

By

TCT Magazine

TCT Magazine
Thanks for reading the January 2009 issue of FJC Magazine!

Visiting this web page allows us to determine how many people are reading the magazine, thanks for your cooperation. While you're here, why don't you forward this issue to a few of your friends? Click the 'E-mail envelope' on the upper right side of this article.

Enjoy the January issue!

--The FJC Magazine Team