Spring time is here!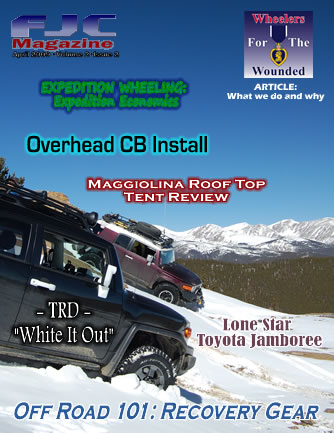 2009 has started off really great for FJ lovers around the world and we're no different. This issue of FJC Magazine has some of our best articles to date. We're also very happy to announce that we've partnered with MagCloud.com to offer a PRINTED version of the magazine that can bemailed to your house. The price of $9.99 per issue covers the cost of printing each copy on demand, it's better for the environment and much more cost effective than other methods of printing. Check out the great articles we have in this issue:
Off Road 101 : Recovery Demo Run! We headed out with the Colorado FJ's to practice recovery techniques
Expedition Economics : Lance discusses how expeditions & overlanding can save you thousands during tough economic times
TRD White Out! Inspired by a Brick FJ & wanting to get back to our 'roots', we completely de-silvered the TRD
Corey Tando from Yotatech.com shares his thoughts on the Maggiolina AirLand roof top tent
Want to install a CB overhead? Chuck Davis from OffRoadSurvivalCamp.com shares his GREAT step by step install guide.
Heard about Wheelers for the Wounded yet? Learn more about this great program in this issue
AND much more, don't wait - download your copy now!
As always, we have two downloads available - absolutely free:
For reading on your computer, you'll want the standard edition of FJC Magazine - Download Here
View the online Flash Version
NOTE: Internet Explorer users should right click and select "Save Target As"

Just a reminder that FJC Magazine supporters have full access to all the online articles (including MANY more photos), the online Flash Version, and less advertising on the web site. We also e-mail breaking FJ Cruiser news to all supporters. We ask for an annual donation of just $12 to become a supporter. More details are here.