FINALLY! The 2010 FJ Cruiser is available on Toyota.com. Toyota.ca & some regional Toyota sites have had the 2010 available for a while, but Toyota just added it today.
You can now configure your 2010 FJ, view pics, videos, and photos.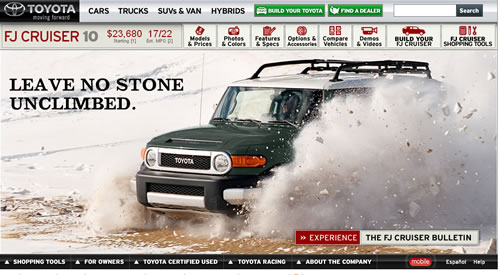 We've also completed the 2010 FJ Cruiser Pricing Estimate spreadsheet. You can get the zip file here, and you'll need MS Excel or a compatible program to use it.
You can use this spreadsheet to configure nearly every option you could want on your FJ, and have a good starting point for negotiations. Please keep in mind that the numbers on the spreadsheet are estimates, and what your dealer has availble will certainly differ. Please use this tool only as a guide.
All you new 2010 FJ Cruiser owners - send us your pics to This email address is being protected from spambots. You need JavaScript enabled to view it., we'd love to see them!