Summer is in full swing and all around the country FJ Cruiser Owners & Enthusiasts are taking to the trails! In just a couple of weeks many of us will be making our way to scenic Ouray, Colorado for the 3rd Annual FJ Summit.
While we've been preparing for the summit, we spent plenty of time making sure the July issue of FJC Magazine is full of great articles & ideas for you to get your truck ready for the summer. We've got a new couple of new contributors this issue as well. Many of you know Athena Innis from Ouray & Moab, she not only wrote an article for us this time around, but her BC FJ Cruiser is the featured rig! Al (aka SwiCago) also shares a little information about his DIY "Ghetto" Roof Top Tent with us.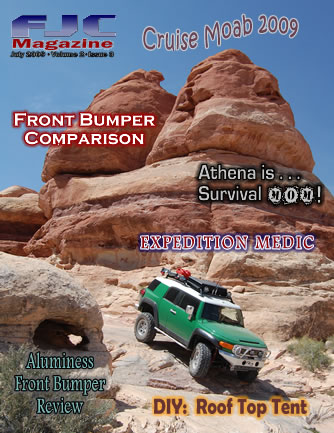 Other articles in this issue include:
Cruise Moab 2009
Expedition Medic From Lance Blair
Front Bumper Comparison
Off Road Lighting Update
New Product: BriteBox from Toytec
Aluminess Front Bumper Initial Review
Off Road 101: FJ Cruiser Storage Solutions
As always, we have two downloads available - absolutely free:
For reading on your computer, you'll want the standard edition of FJC Magazine -Download Here
For printing, the print-ready version with a white background - Download Here
NOTE: Internet Explorer users should right click and select "Save Target As"

Just a reminder that FJC Magazine supporters have full access to all the online articles (including MANY more photos), the online Flash Version, and less advertising on the web site. We also e-mail breaking FJ Cruiser news to all supporters. We ask for an annual donation of just $12 to become a supporter. More details are here.