Welcome to FJC Magazine!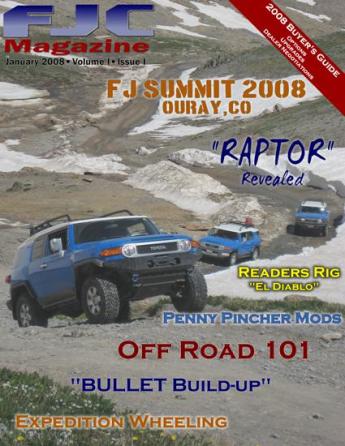 We're excited to finally publish the very first issue of FJC Magazine - free for anyone to download! This first issue includes great information for every FJ Cruiser Owner and Entusiast. Just some of the topics in this issue include:
The RAPTOR is finally revealed: Mike's very customized TRD is an inspiration to us all!
FJ's On Ice - We went to Georgetown, CO for a little Ice Racing Fun
Ouray 2008 : The 2nd Annual FJ Summit is scheduled, now is the time to make your plans
Off Road 101 . . . New to Off Roading? Our first installment of Off Road 101 will help new drivers get a feel for their rig
Expedition Wheeling : Lance from The Expeditioneers dicusses what it means to build an Expedition Ready Rig
Penny Pinchers : Top 5 Mods Under $100
Preparation for the Bullet Buildup
Reader Rigs: El Diablo
*Choose this link if you'll be viewing the Magazine on your computer



To find out about upcoming issues and special features, we have two ways to subscribe (for free) to FJC Magazine. Click Here to add yourself to the FJC Magazine Subscriber Mailing list. You'll recieve an e-mail when a new publication is available. You can also subscribe to the RSS feed . Add this feed to your favorite news reader, or your Google/Yahoo homepage - and you'll know about new issues the instant they are published.
We welcome your feedback! Visit the feedback form if you have ideas, comments, or suggestions for FJC Magazine.
Thanks for everyone's support - and enjoy this first issue!